Less than a year since CEFM-the Hermitage, Kaumun University, initiated a filmmaking course, the faculty and first batch of fourteen students organised what was supposed to be a tiny (and first-of-its-kind) campus film festival. Atop the Himalayas. Within the city of lakes. Naintal. Uttarakand. It immediately attracted the attention of film professionals and theater artistes, and received support from local residents and business houses as well as from the state administration. Thus, in the very next edition, the festival had ambitions of going international and competitive. Speaking on the occasion, Bhupendra Kainthola (director of FTII) said that it is probable that FTII-Pune could open a full-time diploma course in this region. Film Critics Circle of India (FCCI) too pledged support.
In its second edition, this year, the festival has gone international and competitive—Kautik International Student Film Festival runs from April 06 to 15. The first 5 days are reserved for screenings, open forums, and informal workshops and masterclasses. This would be followed by a 5-day film appreciation camp, conducted by FTII-Pune in association with the Himalayan Society for Art, Culture, Education, Environment & Film Development (last date for applying is April 04). This premium course that normally costs tens of thousands is being offered at Rs. 2,500/- since it is a part of the festival. Highly recommended by one and all in the Indian film industry for anyone who has a passion for good cinema.
---
In the pic above: Rajesh Shah, festival director/co-founder, faculty, and veteran Hindi film cinematographer lights the sacred lamp. On the extreme left is Shalini Shah, artistic director/co-founder, faculty, and National-Award-winning filmmaker.
---
Is what we are we witnessing here the beginning of a movement of sorts—the creation of a film industry in a region with no filmic history?

A senior FTII-Pune graduate in cinematography, Rajesh gave years of his life to the Indian film industry. Then, one day, he packed up from Mumbai and came back to hometown to share with youngsters of this country what he had learned through his experience. He and his wife Shalini started a filmmaking course here for beginners. And now, before the completion of the first year, they have already organized a film festival.
From pre-festival day, I saw dear Rajesh and Shalini running from one edge of the campus to the other, covering around 5 km a day, guiding students, discussing about the festival, lifting properties from one side to the other, making arrangements for delegates who had arrived at Nainital, talking to sponsors, and what not… I think they have created history.

So I'm just back from KAUTIK, Kumaon University's Student Film Festival organised by Rajesh Shah and Shalini Shah. It was overwhelming how much work and organisation just a dozen-odd students of this first batch of the Filmmaking course, Kaku and Shalini, and their handful of volunteers put together, managed to accomplish! Their friends from Nainital all pitched in, sponsoring various sundries from bus and train tickets and taxi rides to snacks that (
theatre artiste
)
Idris Malik
's bakery sent—pastries and puffs during tea time.
The campus is on a heritage site and this Bombay heart slowed down its beats to a calm, Zen-like pace for those two days. Seeing how stretched their resources are and the enthusiasm and enterprise that they displayed, I came up with an idea to help this department get the benefit of the rich experience of not just the FTII alumni but also other professionals. Here is a way that we can be Guest lecturers for a day, or two, for the students at the campus.
Most of us travel towards Delhi on some work, for which Production probably pays. The next time any of us feel like taking a break and also earning some Good Karma (time permitting!), lets ask the Production to book our return a couple or so days later. There are trains and Volvos that go to Kathgodam and Nainital, respectively, costing less than Rs. 500/- one way. A taxi will take you from Kathgodam to Nainital for very little. And once there, your hospitality will be Kaku and Shalini's responsibility.
The students are eager and friendly and its a lovely feeling talking to this generation of film lovers on the threshold of their vocation. I promise, you will return refreshed, with that additional feeling of having given something back to the fraternity to which you belong…! 🙂 And of course, if you are lucky, the Himalayas may just gift you a new story…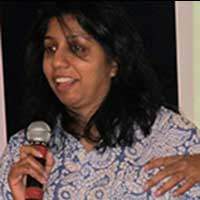 Kautik International Student Film Festival is organized by CEFM. The Hermitage, Kumaun University, Nainital. Dates: April 06—15, 2018.  Email: filmmakingku@gmail.com. Contact: 9411344136, 9410544524 | Facebook page.