Girl from Chennai (formerly, Madras), India, needs to learn cinema. Previously, Juhi Sharma had shot some adverts, and a few docus for NGOs. She applies to a premier film school in the US. Gets admission. But she isn't exactly from a rich background, and thus, doesn't have sufficient cash for the fees and like. So, she steps onto the crowd-sourcing path. Result? She gets trolled, severely. The girl bears all the insults flung at her. And… meets her target in a record 19 days; with over a month remaining.
Juhi Sharma's open appeal:
"If by the grace of the universe, I do manage to reach my target, all the funds that are received post the target completion, will be divided into two: A small portion will go into funding the rest of my studies and a large percentage will go into starting a fund for Indian Women Filmmakers. While we are still working on this, we should be at a good place to kick this off by the beginning of next year. It's our small way of giving back to the community that has given us so much.
"Hello family, friends and soon-to-be friends!
Who am I?
I'm Juhi Sharma, a cinematographer from Chennai, India. My work includes shooting documentary and AD films for NGOs, corporations, individuals, and just about anybody who has an interesting story to tell! Here's my body of work: https://www.visualcv.com/juhi-sharma
Apart from filmmaking, I'm a classically trained dancer, singer and theatre artist
So, what is this about?
Long story short, I have been accepted into the MFA in Cinema Arts specializing in Direction program at Brooklyn College's Feirstein Graduate School of Cinema in New York, with a partial scholarship.
I'm crowd funding this campaign for three reasons: 
My parents can't afford the rest of the amount and since I'm the only earning member, all my savings have gone into the running the house, school fees etc.
I have been denied loans from all banks on the basis of it being a 'cinema' course that is not in the covered list of courses
There are very few scholarships for students in the arts and I applied to each of them but was denied.
The course I'm looking at taking up is a 3 year program that delves into the depths of understanding the narrative structure and directing actors. The program is wonderfully structured and will provide me with everything that I need to make the step up to directing.
You can find more information on the school at: http://www.brooklyn.cuny.edu/web/academics/schools/mediaarts/schools/feirstein.php
I am currently exploring part-time employment opportunities in university and any other loans/scholarships that might be available in the United States but I'm simultaneously having to consider having my dreams fueled by the kindness of all of you.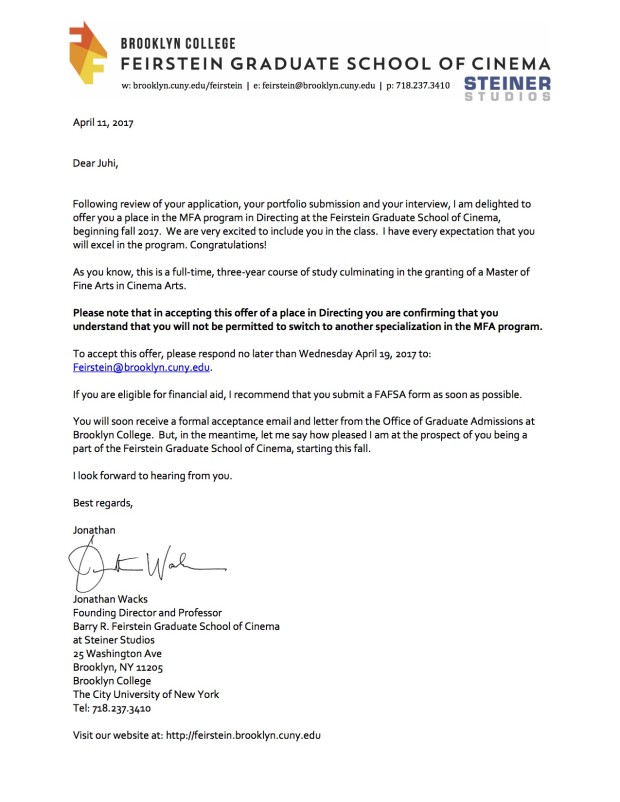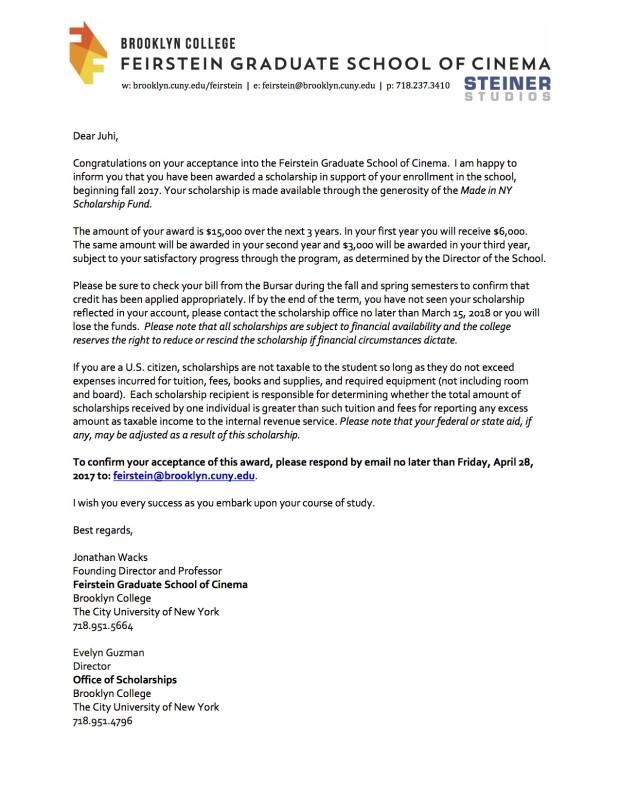 Why is this important to me?
I have always been fiercely independent, ambitious and have relentlessly chased my dreams. The films I've made have always reflected my opinions on equality and gender and this I aim to bring this learning to the next generation. The financial requirements of attending is one of very few hurdles standing between me and what I believe to be the next step in my career. This program offered by Feirstein is the perfect combination of everything I want; Brilliant and renowned faculty, being based in New York and a stellar board of advisors which includes Darren Aronofsky (one of my biggest inspirations!).
With the education and support that I receive, I aim to give back more to India than I have taken. After working with children in theatre and film and understanding their increased exposure to mass produced media, I've come to realize that there is serious lack of quality content that is produced natively, for Indian children. This is what I will change – I will make films for Indian children, sensitively handled, simple films that will drive home important, value based messages. The moral fibre of our society will soon be in the hands of the children. It is imperative to tell them the right stories.
Where does your money go?
Your money goes towards funding my tuition of $26,000 and minimal living expenses + supplies for one year. The amount of $18,000 is just about enough to cover 4 months of living expenses + tuition.
Personal Savings and a very kind scholarship from the Made in NY fund has $6,000 covered. Whatever help I get for the remaining, is what will take me to New York.
1. Does this fund cover all your expenses in New York for the course of your study?
No. This fund covers all the aforementioned subheadings for only one year. This also does not include, travel, visa, phone charges and medical expenses. I will be working part time in the university and full time during the breaks to save money for the second and third years of the course.
2. Why should I sponsor filmmaking if it's not aimed at a social cause?
It's time our films got a little more conscious about their messages. By enabling my education, you are enabling not only one person, but a generation full of children who will grow up with quality films. I am giving up the comfortable pay of corporate films to make films that will someday leave behind some meaning and your support is what will get me there.
3. Are there no loans & scholarships that you can avail?
I have come to the decision of crowdfunding after trying out all options of loans & scholarships. The field of filmmaking is not supported by banks and thus a loan cannot be availed.
4. How much can I contribute?
Your support and sharing is what is most important to me. I will be grateful for any contribution, big or small.
5.  I don't understand the workings of the site but I still want to contribute, is there a way out?
You can mail me at juhi.rk.sharma@gmail.com and I can guide you through the process over mail or a phone call.
How can you help?
The fact that you've reached up to this section means a lot, to begin with! If you can help me gather 1000 people to donate $18 each by the 15th of July, I can make it to my visa interview, without an issue.  If you are convinced by my story and find potential in my work, please help spread the word. I'm confident that this goodwill will find it's way back to you.
Samples of work:  Juhi Sharma
It's hard to ask for help, but it would mean the world to me to have your support in realizing my dreams.
Thank you for reading my story!
Love, Juhi Sharma
Juhi"
Press coverage of above: Deccan Chronicle, India.com, The News Minute.com, The Ladies Finger.com.