Women in Hollywood as well as Bollywood are mostly portrayed as objects of desire, and it is no different in mainstream South Asian and Bangladeshi cinema. This formed the topic at the two-day Women in Cinema Conference 2019 held as part the Dhaka International Film Festival. Sharing their professional experiences were women activists, film critics, scholars, and filmmakers. I was part of three of the panels.
Charlotte Tvedt, Norwegian documentary filmmaker, spoke about women in cinema in her country. We all agreed that today cinema, television, and media despite their irregular working hours are no longer unsafe professions for women as was previously perceived, and that in fact, many women are joining film schools these days to learn cinematography, post-production, and film direction, than ever before. I stated that the first sexually liberated woman character was portrayed in Aparna Sen's Paroma (1984), well over a decade before my own National award winning Odia film Tara (1992) and Deepa Mehta's Fire (1996). The only such notable films in recent times by female directors are Leena Yadav's Parched and Alankita Shrivastav's Lipstick Under My Burkha. There have been a few films with strong women characters by male directors too; films such as Mahesh Bhatt's Arth (1982), Dr. Bhavendra Nath Saikia's Agnisnaan (1985), and lately Pan Nalin's Angry Indian Goddesses.
Six papers were presented at the Women in Cinema conference.
Dr. Gitiara Nasreen, professor of Mass Communication and Journalism at the University of Dhaka, Bangladesh, presented her paper, 'From Screen to Screen: Women's Experience of Watching Cinema in Urban Bangladesh'.
Maja Bogojevic, film theorist and critic from Montenegro presented her paper, 'Cinematic gaze and gender masquerading: some film examples'.
Aparajita Ghosh, Indian filmmaker and actress, presented her paper 'Role of Indian film schools in creating women filmmakers. She said that people in India discourage their female relatives from studying filmmaking since cinematography is traditionally a male-dominated territory. I argued that this scenario is fast changing. In the days of 35 mm film, women preferred taking up editing courses, but now with the advent of digital cameras, cinematography is no longer restricted to males. The classic examples are three-time National award winning Odia girl Lipika Dorai and cinematographer Armin Turel (from FTII, Pune). Premendra Majumdar, Vice President of the Federation of Film Societies of India, pointed out that young filmmakers such as Ananya Kasarvalli (from L.V. Parsad Film School, Chennai) and other women editors are working in mainstream Bollywood. All over the world the workplace for women is getting much safer post the 'Me Too' movement, with strict anti-harassment cells established by the schools and the government.
Dr. Debjani Haldar, Indian filmmaker and social activist from Kolkata, presented her paper, 'Body is not her own: Patriarchy: Violence and prostitution in Post Nineties non-mainstream Cinema: A Critical Feminist Approach Key Words: Body, Sexuality, Violence and Indian Cinema', quoting works such as Nagesh Kuknoor's Laxmi.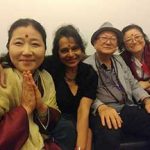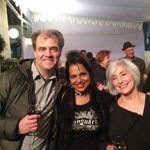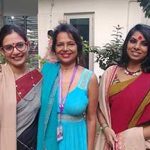 Sydney Levine, trainer/ educator, writer and consultant for festival, international sales and financing strategies from LA, USA, presented her paper, 'What are American Women Doing to Alleviate Gender Discrimination in Cinema?' The US, which was once placed at spot #52 in the world for women's representation has now been relegated to the 104th position. However on the positive side, virtually every major network and studio has established some form of talent development program designed to open the doors for women behind the camera and people of colour. Furthermore, The 'Me Too' movement has brought about dramatic changes in Hollywood. Recently, actress, Jennifer Lawrence openly expressed her anger at the gender pay gap. Levine also spoke about the gender inequality in scripts and how the Geena Davis Institute on Gender in Media is influencing content creators, marketers and audiences about the unconscious bias, highlighting gender balance, scripting strong female characters in entertainment and media that target and influence young children.
Alin Tasciyan, FIPRESCI VP and film critic/historian from Istanbul, Turkey, wasn't able to make it to the festival, so her paper titled 'The rise of the young generation of the female filmmakers' was presented by a proxy. "The new generation of women in cinema are conscious about the situation and are demanding equality," Tasciyan pointed out. "But they need to question the existing methods and customs and change them according to their demands. Instead of wearing black on the red carpet, women directors ought to question the necessity of their actresses to walk on a red carpet posing to the cameras and exposing themselves as sensual objects. They ought to inspire their actresses to revolt against such appalling old habits."
Women in Cinema conference at Dhaka International Film Festival 2018