FIPRESCI India Grand Prix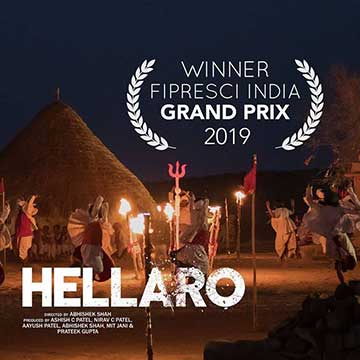 Abhishek Shah's Hellaro received the maximum number of votes among the 39 films that were nominated for the FIPRESCI India Grand Prix for the Best Indian Feature Film of 2019. Two rounds of voting took place. In the first round, half the films were knocked out, and the list was trimmed down to 20 films. The jury for both rounds comprised members of FIPRESCI-India, the Indian chapter of FIPRESCI, the international federation of film critics founded in Belgium in 1930 and that now has members in over 50 countries. The India chapter was founded in 1992 with Chidananda Dasgupta as President and Aruna Vasudev as Vice President. Currently, VK Joseph is the President and Premendra Mazumder is the Secretary.
Earlier in the year, Hellaro had won two National Film Awards — Best Feature Film and a Special Jury Mention for its 13 actresses. It was also the opening film in the Panorama Section of the 2019 edition of the International Film Festival of India (IFFI).
The list of nominations, in chronological order:
A Day A Night (Malayalam)
Aadhaar (Hindi)

 India Grand Prix

Aamis/ Ravening (Assamese)
Aanandi Gopal (Marathi)

FIPRESCI India Grand Prix

Aani Maani (Hindi)  

FIPRESCI India Grand Prix

Ahaa Re/ The Two Lovers (Bengali)
Aise Hee/ Just Like That (Hindi)
Article 15 (Hindi) 

FIPRESCI India Grand Prix

Axone (Hindi/English)
Binisutoy/ Without Strings (Bengali)
Biriyani/ Flavours of Flesh (Malayalam)
Bombay Rose (Bambaiyya)
Chola (Malayalam) 

FIPRESCI India Grand Prix

Eeb Allay Ooo! (Hindi)
Gamak Ghar (Maithili)
Ghawre Bairey Aaj/ The Home and The World Today (Bengali)
Gully Boy (Hindi)
Hellaro (Gujrati)
Iewduh/ Market (Khasi)

IPRESCI India Grand Prix

Ishque/ Not a Love Story (Malayalam)
Jallikattu (Malayalam)
Jonaki Porua/ Fireflies (Assamese)
Kenjira (Paniya) by Manoj Kana
Kumbalangi Nights (Malayalam)
Maadathy/ An Unfairy Tale (Tamil)
Nimtoh/ Invitation (Nepali)
Pandam Amada/ In Pursuit Of (Manipuri)
Parcel (Bengali) 

FIPRESCI India Grand Prix 

Ranj/ Slow Burn (Punjabi, Hindi & Haryanvi)
Robibaar/ On A Sunday (Bengali)
Run Kalyani (Malayalam)
Silencer (Malayalam)
Stand Up (Malayalam)
Sunetra / The Pretty Eyed Girl (Malayalam)
Super Deluxe (Tamil)
The Lift Boy (Hindi)
Uyare/ Rise (Malayalam)

FIPRESCI India Grand Prix

Veyilmarangal/ Trees Under the Sun (Malayalam)
Vrithakrithiyulla Chathuram/ A Minor Inconvenience (Malayalam)