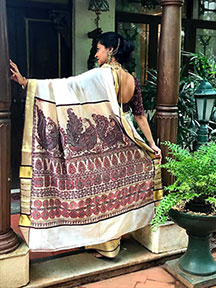 I found this Kalamkari piece in a plastic bag stuffed with other bits and pieces of fabric in the inner recesses of my sister Yashodhara's¹ cupboard. It was obviously a pallav piece that had seen better days, when it had been part of a saree. My sister Aparajita gasped when she saw it.
Apparently she was the one who had commissioned the saree in Hyderabad from President's award winning Master craftsman Kailasam, and his work is now so scarce that it is actually priced like a painting. I thought to myself that his craftsmanship is better off being seen and admired rather than languishing in a cupboard. So I put the pallav on a traditional Kerala saree, because the intricate work would be best set off on a plain background. Apparently the prices of these sarees have sky rocketed too because the borders are made of real gold yarn.
Maybe I should insure the saree!
"Kalamkari too, like Bengal Patachitra, once had songs associated with the paintings. These days, none of the craftspersons practice/remember the singing part. It is only the painting part of the art form that remains."
Debjani Bose
,
Tribal Craft

Model in the header pic: Radhika Nag
Concept up-cycling, styling and photography: Joy Bimal Roy
Location: The Roys Bungalow, Bandra
¹Yashodhara Roy designed costumes for films such as Govind Nihalani's Hazar Chaurasi Ki Ma and Takshak.