I am a victim of a serious breach of contract and multiple lies and deception by writer PADMANABHA DASGUPTA who apparently is 'one of the best and most respected writers in Bangla industry'. The issue I bring up here is about one Friedrich Durrenmatt story 'A Dangerous Game' and the tale of three films.
Let me tell you my story…
Year 2018, after graduating from FTII, I decide to make my first feature film. I go to Kolkata to have a screen writer on board and meet Padmanabha Dasgupta. He narrates the story of 'A Dangerous Game' by Friedrich Durrenmatt and I instantly like it.
The book he insists isn't available in India. I finally find a copy in US and my uncle sends me two copies from there. I send a book to Padmanabha and we start working. Signing of contract happens. He writes while I contact the body based in Zurich which handles rights of Friedrich Durrenmatt. contract
I constantly email them and call them as I always wanted to make sure that we start shooting only after obtaining rights. We reach a pre-final draft.
I share my screenplay and concept note with the following actors: Parambrata Chatterjee, Raima, Kaushik Sen, Vinay Pathak, Shishir Sharma, Sabyasachi sir, Shantilal Da etc and we start finalising things, while waiting for the final decision from the rights body. contract
Meanwhile, I get to know Padmanabha Dasgupta has gone ahead and started performing plays with KAMLESHWAR MUKHERJEE for their theatre group, Rasbihari Shailushik, based on my exact same script. He did not even bother to inform me, leave alone asking for permission. A complete breach of contract.
I confront him. He ignores my calls for a while and then tries to mansplain by saying things like 'oh don't worry, it's just a small little function. Nothing serious.'. I warn him. He assures there would be no future shows of this play. I decide to let it go.
A few months pass, I am waiting to hear from the rights body and the final draft, I get to know Padmanabha and Kamleshwar are still performing the play.
I call Kamleshwar and other members of their theatre group. Kamleshwar says I will ask Padmanabha about this and seems rather supportive. The members of his theatre group insist it's just a 'small function', while everyone from Bengali superstar Dev to the popular director Raj Chakraborty and many others have seen the play, thereby totally diluting the point for me to go ahead with the script that infact is a thriller. The theatre group assures me that only you will make the film based on this concept. This is just a play, etc.
Around the same time, the lovely Shishir Sharma sir who has always been very supportive tells me about this film called 'CHEHRE' that has been launched by Rumi Jaffrey around 2019.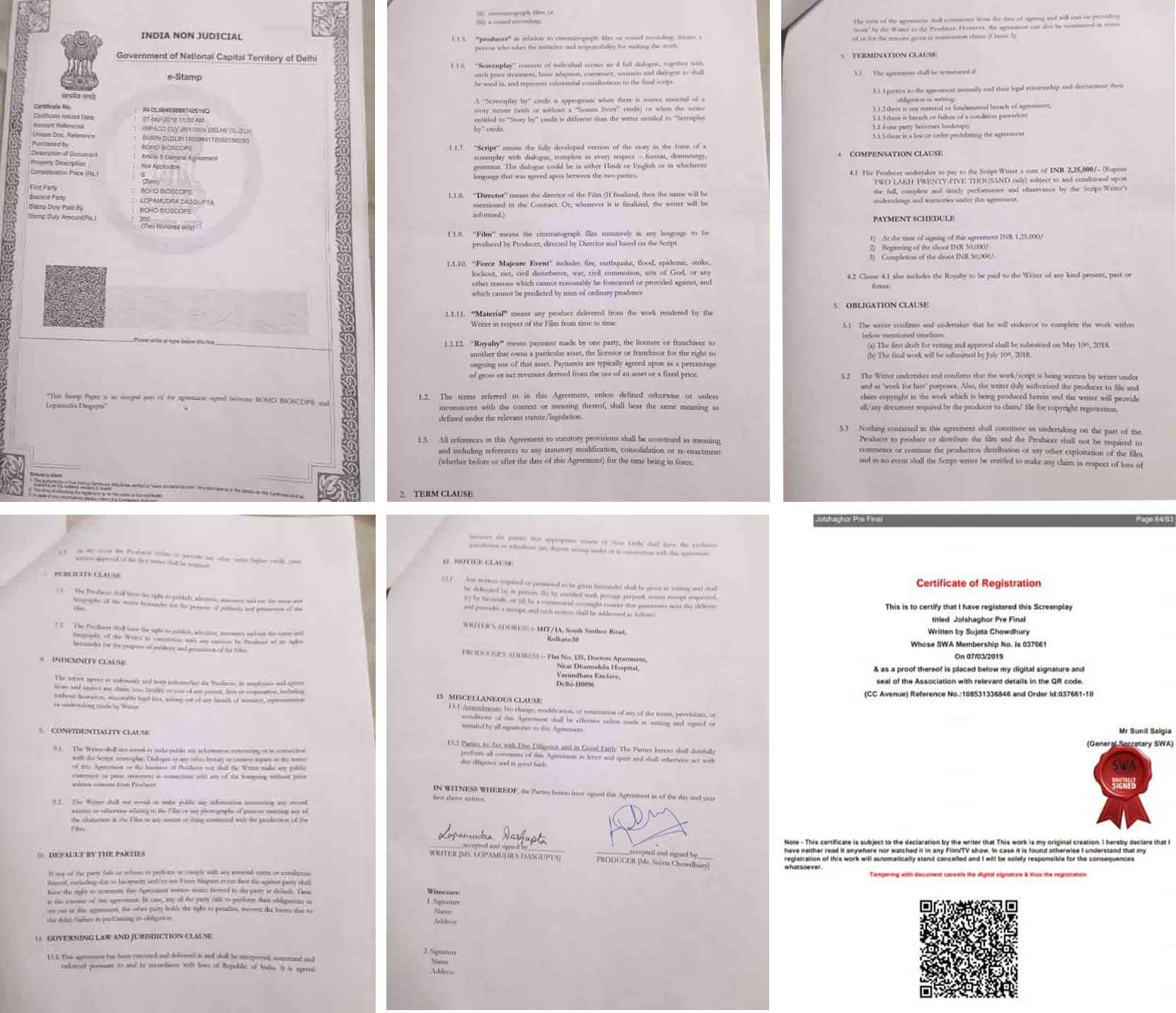 I AM SHOOK. It's exactly the same idea I was working on.
I hysterically start calling and mailing the rights body in Zurich. They vehemently deny giving RUMI JAFFREY rights of the story. They claim to have never heard from him.
I message Rumi Jaffrey. He doesn't respond.
I speak to Anjum Rajaballi Sir, Jyoti Kapoor ma'am and people at SWA who patiently listen to me and guide me.
Padmanabha Dasgupta all this while keeps using pressure tactics on me on not speaking up as they are BIG PLAYERS and how now there's no point making our film, Jolshaghor, as they have launched it with superstars like Mr Amitabh Bacchan and Emran Hashmi.
I, marred by the constant struggle that I had been facing and my health conditions in 2019, for which I had to have surgery and be hospitalized for a long time, decide to let things be.
I think to myself that maybe this is how things work. Maybe I was wrong for being honest, for wanting to play by the rules. Maybe this is how the industry works. You steal, you copy, you be a bad person and you win.
I focus my interest on other ideas.
My friends from time to time, keep asking me to speak up and be vocal. I still didn't. It's just who I am as a person… I don't like to dwell on negativity. I am not creatively bankrupt like these thieves… I wrote instead, came up with other good ideas, moved on ..
Today, however, I was forced to SPEAK UP.
The vicious and manipulative duo of Padmanabha Dasgupta and Kamleshwar Mulhwejee are at it again!!!
A friend of mine sends me the link to the trailer of this Bengali film, 'Anusandhan' which yet again is based on the same story by Durrenmatt (with minor changes like making it a family of lawyers instead of having four lawyer friends etc).
At this point, I completely lose it. Don't know whether to laugh or be sad at how pathetic the state of affairs is.
Padmanabha Dasgupta works out a screenplay inspired by Durrenmatt's play for me and my production house, Boho Bioscope. The screen play is registered at Screenwriters Association since March 2019. I have the contract in place, signed by his wife, Lopamudra Dasgupta (who always signs contracts on his behalf). And there it is….this new film….
Same plot as Chehre….Same plot as Durrenmatt's 'Dangerous Game'… Same plot as my film 'Jolshaghor'…
A film I abandoned because I wanted to be honest. Because that's what film school taught me, that's what cinema taught me…. And here I am, paying the price for honesty… While people who didn't even bother to contact the rights body are goibg ahead making their films and releasing them.
Last contacted, the rights body at Zurich, clearly said they will not give me rights to anyone. I stopped then and there.
But man….what audacity ya… These people don't even bother about rights. Slow clap.
Padmanabha Dasgupta has completely breached my contract, sold a script he wrote for my production house to Kamleshwar Mukherjee and made a mockery of ethics!
All this just made me so disgusted that I decided to finally be vocal about things. Sharing pictures of my contract, SWA certification and the messages I sent to Padmanabha Dasgupta.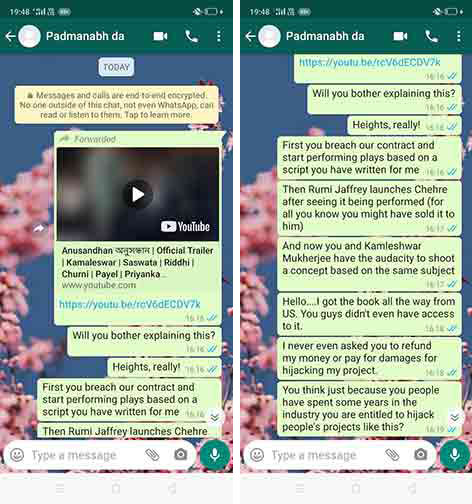 Like a coward, he's again speechless!
I have just been too 'nice' all this while. Didn't even ask Padmanabha to return the fees we have paid him for writing the screenplay, didn't take any legal action. And look at this man constantly taking advantage of my niceness.
This is it! I've decided to speak up now and be vocal about this. I've spent a lot of effort, time, money and energy on it. Since 2019, I've been struggling to come up with another idea as I'm constantly unsure about who to trust anymore.
First films are special and when such ugly things happen to your first film, it hurts. And it's time I vent it out and maybe in the process, warn some of you from working with the likes of Padmanabha Dasgupta.
No, I don't regret taking the honest course. Yes, maybe two years down the line, I haven't been able to make my first film yet. Maybe I've gone through a lot mentally and emotionally due to this set-back, but I was honest and will continue to believe in honesty… And will soon make a bomb-ass feature film because unlike these idea-thieves, I am not creatively bankrupt. Lol.
Link to Google Drive where I've uploaded the entire screenplay written by Padmanabha Dasgupta for us, registered at Screen Writers Association: https://drive.google.com/file/d/1E0DkUCuK_BVV7QxPL13Frgg9zFxdjY8p/edit
To wrap this up, an official email that I received a while ago from the official rights issuing authority based in Zurich clearly state that the work 'Die Panne' or A Dangerous Game by Durrenmatt is NOT in the public domain and that they have NOT granted any TV/film rights to anyone yet.
I am thankful to the authorities, especially Bozena and Andrei, for promptly replying to my emails and helping me bring out the truth in the public sphere. In the end, truth speaks for itself and when you know you've been honest all this while, you're not afraid of anything or anyone. The legal battle in this matter is for the rights body based in Zurich to fight with the makers in question. My role here was to bring this out in the open as I had attempted to honestly procure rights of this play and adapt it legally. However, I paid I price for being honest. My project has cruelly hijacked. Hence, I'm entitled to bring out the truth of this matter and share it in the public space.
---
Disclaimer: The statements made above are ENTIRELY that of the writer. Cinematic Illusions has NOT verified the grievances and will NOT be held responsible in case of evidence to the contrary. Those to whom it is directed are free to send their version with evidence for publication in this magazine if they so wish that their version be heard.