Yogesh Gaur made his debut as a Hindi film lyricist with Kahin Door Jab Din Dal Jaaye and Zindagi Kaisi Hai Paheli, in Hrishikesh Mukherjee's Anand (1971).
What others say
"Lyricist, a colleague and friend, Yogesh passed away this morning. He will always remain in our hearts though his innumerable hits. Rest in peace Yogesh ji."
Amit Khanna
,
Film writer-director-producer-lyricist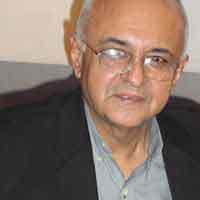 "The man who penned simple but profound verses like Kahin door jab, Rimjhim gire sawan, Kahan tak yeh man ko, Badi sooni sooni and others was an extremely low profiled human being. A very honest man (a rare quality in filmdom). Yogeshji beautifully encapsulated the bitter reality of life penning Zindagi kaisi hai paheli… kabhie yeh hasaye, kabhie yeh rulaye. May his soul rest in peace."
Rajesh Subramanian
,
Hindi film music journalist/promoter

"The great lyricist known for emotional songs that touched hearts… A lyricist who penned very simple heart touching songs they are still remembered by music lives."
Sagar Sayani
,
Hindi film music compere

"
A deep sense of loss. Saddened. Prayers.
"
Ananth Narayan Mahadevan
,
Film actor-writer-director

"RIP, dada !! World will be poorer without you… Ekdin sapno ka rahi … chala jaye apno se sage kahan … zindagi as a paheli, no one encapsulated it better!!
Yogesh gone !! Perhaps the last of the big ones of the previous generation in a certain way … He was special because his greatness was always combined with simplicity and unlike many of his better known peers, he never touched the stardom that he deserved … But it's also because he was someone who never cared for it, happy within in his world of people who valued him !!
Na Jaane Kyu Hota Hai Yun Zindagi Ke Saath …
Achanak Yeh Maan, Kisi Ke Jaane Ke Baad …
Kare Fir Uski Yaad, Choti Choti Si Baat …"
Brahmanand Singh
,
Docu filmmaker

"Just his name takes you instantly to a long list of the most heartwarming songs. Evergreen words all so meaningful touching you deep within."
Divya Mehta Sharma
,
Retired in-house TV director-producer

"
Rest in eternal peace. A timeless great of beloved Indian Hindi Cinema. His Simplicity of expression was Extraordinary

🙏
"
Dhãrmesh Dãrshãn
,
Film writer-director-educationist

"Yogeshji left us. Spent some lovely moments with him. May Baba give your soul as much bliss as your words gave all of us."
Madhav Vijay
,
Music composer, Music Inn

"
🙏
He leaves behind a wonderful repertoire of our film songs. Just listen to his songs in/ through today's ears. They are a lesson on the vocabulary of film lyricism."

"Prayers and condolences – may his soul rest in peace."
Saurabh Turakhia
,
Hindi film artist/journalist

"Today Vividh Bharti has been through the evening paying him a tribute and playing all his unforgettable songs of Rajnigandha, Mili and so many others including my all time favourite Rim jhim gire saawan ! What a genius
👏
👏
RIP"
Pushpa Koshal
,
Head of operations, Pixel Digital Studios

"Deeply saddened. What a wonderful treasure trove Yogesh ji gave us. Each song full of meaning, feeling, wisdom, beauty. Simplicity and beauty. May his soul be in Bliss. For us we will remember him everytime we hum a song in sadness or joy and feel his words come to life again."
Tanuja Chaturvedi
,
Art director

"Heartfelt condolences. He was a wonderful person. Got chance to interact with him. He even spoke to my mom on phone after listening to her poem."
Manasvi Sharma
,
Filmmaker

"Zindagi kaisi hai paheli haye… Kabhi to hasaye Kabhi ye rulaye…RIP "

"Ek din sapnon ka Rahi. Chala jaye sapnon ke aage. Kahan ॐ शांति।।"

"Very meaningful lyrics was his forte. Sad news indeed. May his soul rest in eternal peace."

"Humble poet with extraordinary depth in his poetry… A great loss indeed."
Devi Shankar
,
Hindi film music fan

"May god bless the departed soul. Yogesh Ji's association with Salil Chowdhury produced many a gems."
Kanwal Kohli
,
Film producer

Yogesh on  IMDB | Wikipedia | Screen || Cover photographer credits: unknown
---